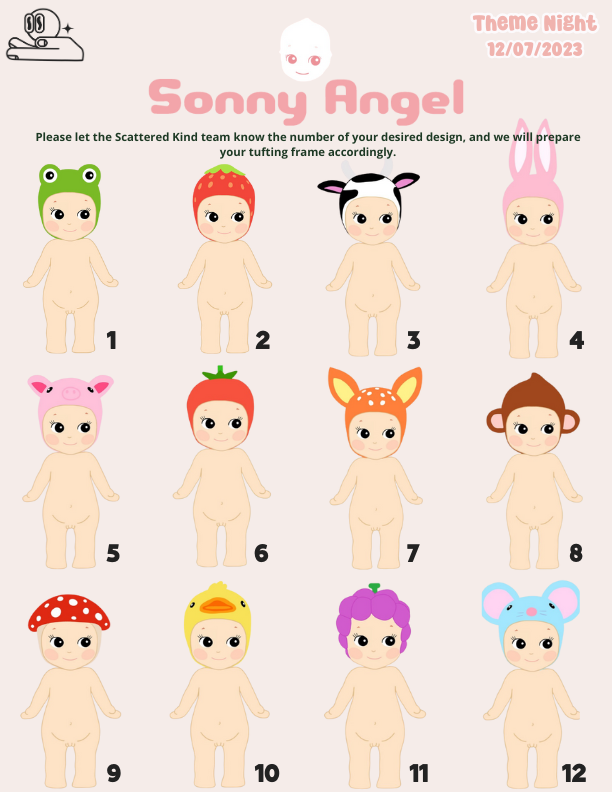 12/07/2023 - Sonny Angel Theme Night
Join us for an enchanting crafting experience with our Sonny Angel-themed Tufting Workshop! Transform your love for these adorable little angels into a masterpiece you can take home and cherish. This workshop is perfect for both Sonny Angel collectors and crafting enthusiasts looking to add a touch of serenity and sweetness to their spaces.
What You'll Experience:
Angel-Inspired Creativity: We provide you with an array of charming Sonny Angel designs to inspire your tufting project. Whether you adore their whimsical animal costumes or their classic cherubic expressions, you'll find a design that speaks to your heart.
Hands-On Guidance: Our skilled instructors will guide you through the process, offering personalized tips to help you bring your angelic creation to life.
Quality Materials: Use our high-quality yarns and tufting tools that ensure your crafted rug is as heavenly to the touch as it is to the eyes.
Cozy Ambiance: Enjoy a peaceful, comfortable workshop environment that captures the innocent and pure spirit of Sonny Angel figurines.
Connect with Fellow Fans: Share this experience with a community that cherishes Sonny Angel as much as you do, making new friends and memories.
Take-Home Treasure: At the end of the workshop, you'll have your very own Sonny Angel-inspired rug, a soft, delightful addition to any room or a perfect gift for a fellow collector.
Whether you're a Sonny Angel enthusiast or simply a lover of all things cute and crafty, our tufting workshop promises an experience filled with joy and creativity.
👼 Book now and let your crafting journey take flight with the sweet charm of Sonny Angel!